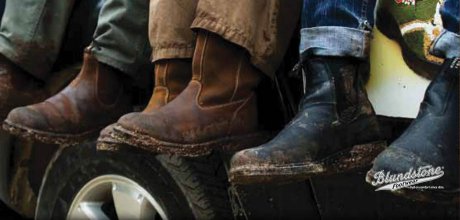 1853 Brothers, James and Thomas Cuthbertson set sail from England on the 'Corramandel' bound for Melbourne but landed in Hobart Town, blown off course in the roaring forties. James Cuthbertson commenced his own business, making and importing shoes. James married, had two sons, and bequeathed the now flourishing business to his first-born, James II.
John and Eliza Blundstone arrived in Hobart around this time on the 'Conway' from Derbyshire. Like James Cuthbertson, John was also experienced in footwear manufacture, and he soon set up business in Liverpool Street, Hobart.
By 1892 John had established a factory and expanded to premises on either side of Collins Street, and had taken his son into the business.
1902 John Blundstone and Son was formed and soon after a purpose built 2 storey site was erected in Campbell Street.
1932 James and Thomas Cuthbertson purchased Blundstone Pty Ltd. They amalgamated the manufacturing operations under the Blundstone name, and retained the family name for the tannery in South Hobart.
1979 Blundstone became the first Australian footwear manufacturer to receive a Design Award from the Industrial Design Council of Australia.
1986 recipient of an Australian Export Award.
1989 commenced manufacture of waterproof injection moulded footwear (gumboots).
2000 Blundstone acquired another footwear company John Bull Footwear which was founded in New Zealand in 1934.
2004 Blundstone legendary comfort evolves with the introduction of SPS x~tra.
2010 Blundstone release the Xfoot range of premium safety boots, featuring revolutionary underfoot comfort and SPS MAX.
2011 Blundstone became the official naming rights sponsor of the world-class cricket facility at Bellerive in southern Tasmania which will now be known as Blundstone Arena, Bellerive.
TODAY Blundstone continues to expand around the globe, currently selling to over 50 countires across five continents. Despite growing to become one of the world's most recognisable boot brands, the company retains its Tasmanian roots and its family values.
Discover this brand in our shop